Teladoc Health Acquires InTouch Health – The Signify View
Published: February 6, 2020
Cranfield, UK, 6th February 2020 – Written by Alex Green – For several years Signify Research has been pushing the message that the demand for enterprise-scale telehealth will transform the telehealth IT supplier base. The announcement last month that Teladoc Health will acquire InTouch Health is perhaps the biggest example of this trend and means there is now at least one vendor that has completed the journey from local point-solution provider to an international enterprise-scale vendor.
An enterprise-scale telehealth vendor is one that offers solutions across all care settings and customer types, and also offers solutions that address the demand for telehealth hardware, platforms/software and services (both IT and physician support services), i.e. it offers a single solution for a health system's complete virtual care strategy.
Enterprise-scale Telehealth Solution
Two years ago, there were no suppliers that were close to making the claim they offered an enterprise-scale solution. Neither InTouch Health or Teladoc were close.
Prior to June 2017, Teladoc's business was entirely focused on offering low-acuity video conferencing services via its in-house provider network to payers and employers in the US. It had little business that related to high-acuity IT or services, few provider customers and no customers outside the US.
Conversely, InTouch Health was heavily focused on providing hardware (largely carts) to acute/inpatient providers. It had an embryonic platform business and a small high-acuity physician support business. It had no consumer-focused virtual-care business.
However, both recognised the trend toward enterprise-scale solutions early and have been on a journey to evolve their businesses since. This is captured below which illustrates how acquisitions, product developments and partnerships have moved both companies from their initial positioning towards an international enterprise-scale offering.
For InTouch Health, its acquisitions of AcuteCare Telemedicine (ACT) and C30 Medical moved it from high-acuity technology provision to high-acuity physician support services where it already had a partnership with MLS Telehealth. Its acquisition of TruClinic allowed it to expand from largely high-acuity IT for emergent telehealth consultations and patient management in the ICU/ED to the lower-acuity, clinic-based provider-to-patient video consultation market.
Teladoc Health's acquisitions have been more focused on international expansion. Best Doctors and Advance Medical operate globally and MédecinDirect is a leading telehealth service provider in France. However, a key element of Teladoc's strategy in relation to the Best Doctors acquisition was to move the company into higher-acuity markets.
The company has also moved quadrants via product development. Teladoc's business model was originally focused on selling physician support services to customers using Teladoc's own provider network, TeladocPA (an affiliate company). It did not sell its platform to providers that wanted to use it to resource their own telehealth services. However, in 2018 this strategy changed making Teladoc a much more attractive vendor for healthcare providers and moving it firmly into the low-acuity technology supplier quadrant.
Teladoc Health's acquisition of InTouch Health means that it will now have products and services for all of the above quadrants.
AmericanWell is the only other company that can make the same claim. Its acquisition of Avizia in 2018 very much mirrored the Teladoc Health/In Touch Health deal. Replace Teladoc Health with American Well and InTouch Health with Avizia and much of the above discussion still holds true. All four companies were either number one or number two in terms of market share in their quadrants.
A key difference was that American Well hadn't invested to the same extent as Teladoc in developing an international business. The Avizia acquisition brought some international customers to add to the small international footprint American Well already had in Israel, but not at the same scale that the combined Teladoc/InTouch Health company will have.
The Future
M&A activtity over the last two years has transformed telehealth from a highly fragmented market served by point solutions to one where two vendors now dominate, particularly in the US. Both Teladoc Health and American Well have executed well in terms of acquistion strategy in order to evolve to enterprise-scale vendors.
This will give them a strong competitive advantage in the US where demand is now starting to ramp up for enterprise-scale solutions. The market in most other countries is less developed and point-solutions still dominate. However, this will change as markets mature. Teladoc is better positioned to take advantage of this owing to its larger international footprint, so we may yet see American Well attempt to bolster its international credentials via acquisition to compete.
The below diagram illustrates some of the other telehealth players (particularly in the US), their current positioning and routes to expanding into new areas. Over the last two years several vendors have started expanding to new quadrants. For example SOC Telemed (high-acuity service provider in Quadrant A) has moved into Quadrant B by offering its platform commercially to other providers. MDLive (service provider) has also followed a similar strategy in the lower-acuity segments. AMD Telehealth (high-acuity platform) has launched a low-acuity on-demand platform for provider-to-patient visits. However, these are relatively small changes compared to the Teladoc/InTouch deal and the American Well/Avizia deal of 2018.
Through acquisition, product development or partnerships, telehealth suppliers will ultimately need to occupy all four market quadrants in order to maintain leadership positions and to compete with Teladoc Health and American Well. Not all will be successful in this transformation and more logos are likely to disappear (largely through M&A) as the market matures.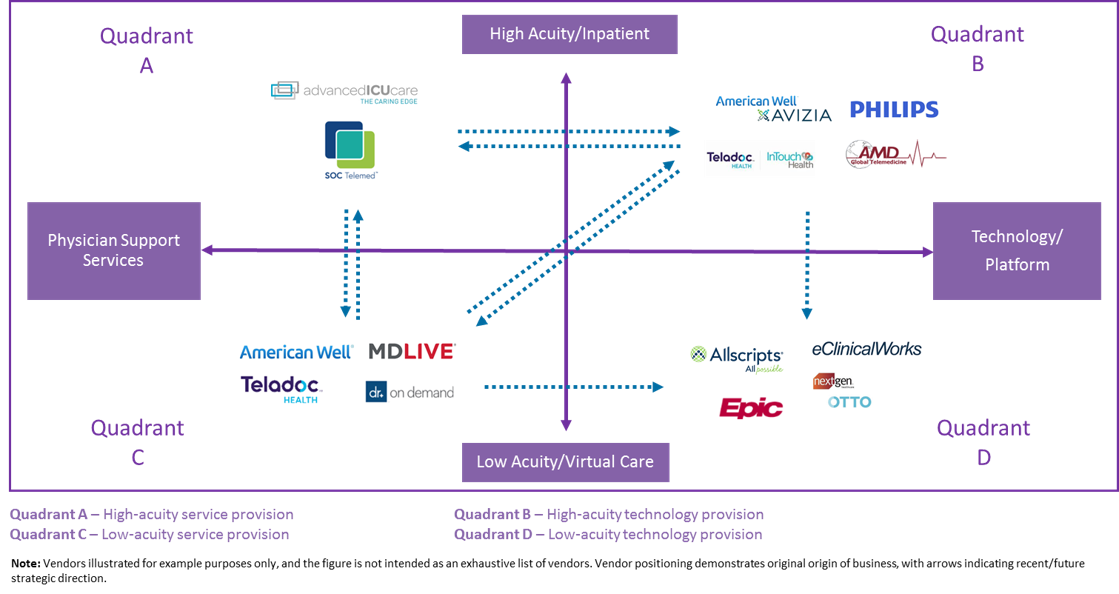 About Signify Research
Signify Research is an independent supplier of market intelligence and consultancy to the global healthcare technology industry. Our major coverage areas are Healthcare IT, Medical Imaging and Digital Health. Our clients include technology vendors, healthcare providers and payers, management consultants and investors. Signify Research is headquartered in Cranfield, UK.
Signify Research has published several market reports on the global telehealth market. For further information please contact Alex Green.
Alex.Green@SignifyResearch.net
+44 1234 986104
Share on LinkedIn