Circle Square Digital Health Trends – December 2022 Year in Review
Published: January 3, 2023
3 January 2023 – Contribution by Imogen Fitt – Featured in Circle Square Digital Health Trends – December 2022 Year in Review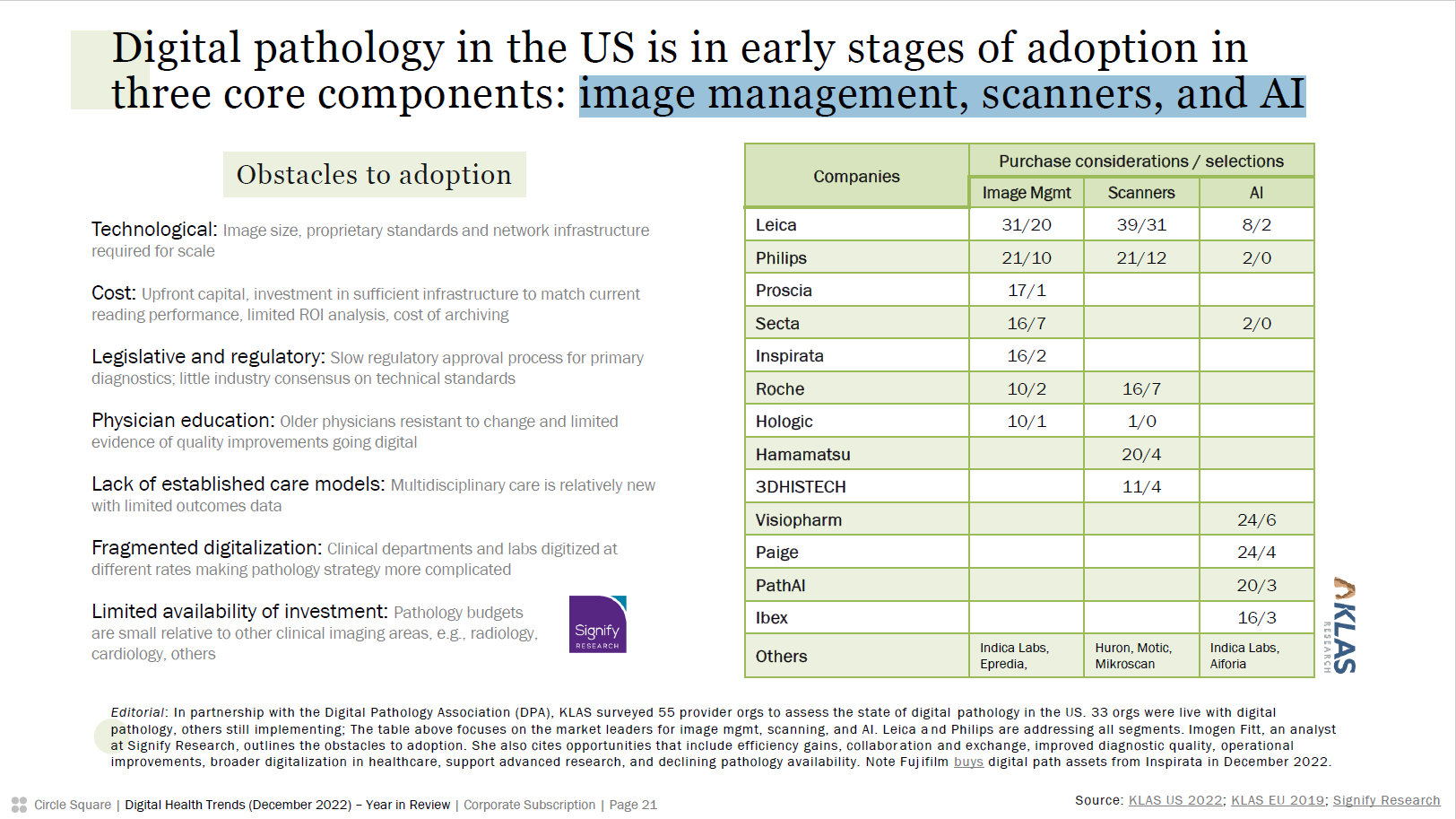 Digital pathology in the US is in early stages of adoption in three core components: image management, scanners, and AI
Obstacles to adoption
Technological: Image size, proprietary standards and network infrastructure required for scale
Cost: Upfront capital, investment in sufficient infrastructure to match current reading performance, limited ROI analysis, cost of archiving
Legislative and regulatory: Slow regulatory approval process for primary diagnostics; little industry consensus on technical standards
Physician education: Older physicians resistant to change and limited evidence of quality improvements going digital
Lack of established care models: Multidisciplinary care is relatively new with limited outcomes data
Fragmented digitalization: Clinical departments and labs digitized at different rates making  pathology strategy more complicated
Limited availability of investment: Pathology budgets are small relative to other clinical imaging areas, e.g., radiology, cardiology, others
Editorial: In partnership with the Digital Pathology Association (DPA), KLAS surveyed 55 provider orgs to assess the state of digital pathology in the US. 33 orgs were live with digital
pathology, others still implementing; The table above focuses on the market leaders for image mgmt, scanning, and AI. Leica and Philips are addressing all segments. Imogen Fitt, an analyst
at Signify Research, outlines the obstacles to adoption. She also cites opportunities that include efficiency gains, collaboration and exchange, improved diagnostic quality, operational
improvements, broader digitalization in healthcare, support advanced research, and declining pathology availability. Note Fuji film buys digital path assets from Inspirata in December 2022.
Share on LinkedIn